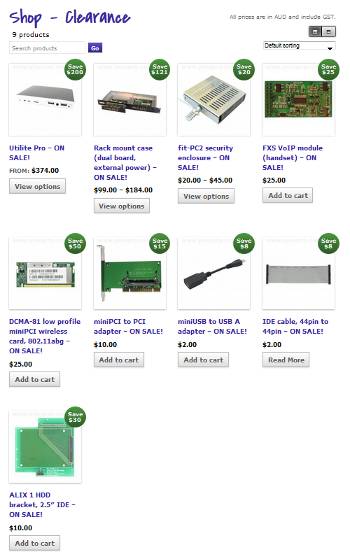 We've done a big stock clean out, so there's a bunch of things on sale, priced to clear.
Everything's at or below cost, so now's the perfect time to grab yourself a bargain.
But only while stocks last, so get in quick.
New "Accessories" tab
We've also done some rearranging in the catalogue, and moved most of our accessories into the new "Accessories" tab that now appears on most of our products.
So if you're looking for the right products to suit your server or desktop, you can now find them all in the one place.
And if you're after something in particular, just trying searching for it or get in touch.
Happy shopping.
And have a Merry Christmas!
Want to stay in the loop
Sign up for email updates and get the latest news and articles delivered straight to your inbox.
We'll also donate $5 to Voyage Linux, to support the ongoing development of this fantastic software.
Sign me up!