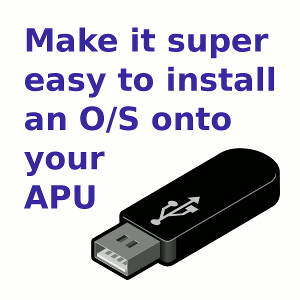 Installing an operating system onto the APU can sometimes be harder than you expect.
Especially if you:
don't have a card reader
you want to install your O/S onto the mSATA drive
you want to install Voyage Linux onto the APU
you don't have another Linux machine handy, or
you don't want to have to pull your APU apart to do it
But we've figured out a way to make it a gazillion times easier, and we use this trick every day in our business when we're pre-installing operating systems onto our boxes for you.
All you have to do is create a bootable USB stick, with Voyage Linux on it, and suddenly it becomes super easy to install whatever you want onto the APU.
Our latest tutorial walks you step by step through creating one of these extremely handy USB drives, and once you've created one, you won't want to leave home without it!
Also keep an eye out for our future tutorials, where we'll take you through installing a range of operating systems onto our hardware, using this time-saving trick.
Make life easier for yourself right here:
> How to create a bootable USB drive for the APU
And have a brilliant day :)
Want to stay in the loop
Sign up for email updates and get the latest news and articles delivered straight to your inbox.
We'll also donate $5 to Voyage Linux, to support the ongoing development of this fantastic software.
Sign me up!