Get even more speed from your tiny fanless PC
CompuLab have announced two new miniature desktop PCs – the fit-PC4 and the Intense PC2.
fit-PC4
Based on AMD's next generation G-Series "Jaguar" SoC, the fit-PC4 will be up to three times as fast as the fit-PC3.
With a 2GHz quad-core CPU and up to 16GB of RAM, all still packed into the same tiny, fanless enclosure, this will be one impressive desktop PC.
The fit-PC4 also offers dual HDMI display and adds a micro SIM slot, all while consuming 6-24W of power.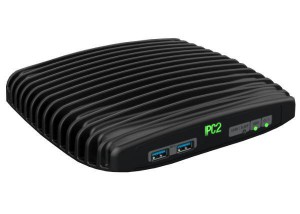 Intense PC2
The Intense PC2 is based on Intel's 4th generation Intel Core processor and boats a dual-core 2.1GHz CPU with Turbo-Boost up to 3.3GHz.
Faster than its predecessor, the Intense PC, the Intense PC2 adds another high-resolution display, making a total of three, plus extra slots for internal SATA devices, USB ports and a micro SIM slot.
All packed into the same amazingly small space and using just 8-25W of power.
They just keep getting better and better!
Production on both of these models is underway.
We'll be able to offer these once all necessary compliance testing has been completed.