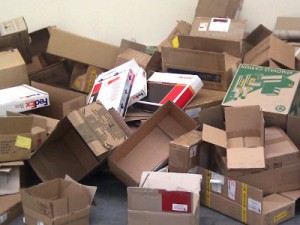 As of today, we have relocated from our premises at Unit 1, 4 Dunlop Court, Bayswater, to a home office in Boronia.
Our main phone number 1300 859 799, remains unchanged, and our new direct phone number will be available shortly.
Our old numbers will continue to work for at least the next 12 months, so there's no rush to update your records (but you may want to do it eventually).
As previously, we still don't have a shop front, but if you need to collect your order, please contact us to arrange a suitable time.
Please check our contact details page for our latest contact information.
We don't anticipate any interruption to services, but you may occasionally catch us in the middle of moving remaining odds and ends between the two offices.
We also have some office furniture, equipment and stock shelving that need a new home, so if you're looking for a bargain, please get in touch and we can let you know exactly what's available.
Thanks for your patience and understanding as we finalise our move.
We look forward to providing you with the same high quality products and prompt service as always.
And have a brilliant day!
Want to stay in the loop
Sign up for email updates and get the latest news and articles delivered straight to your inbox.
We'll also donate $5 to Voyage Linux, to support the ongoing development of this fantastic software.
Sign me up!