Build a super-tiny access point or thin client
Deploy wireless access points or thin clients quickly and inexpensively with the tiny ALIX 3 server.
Here's what you can do with an ALIX 3:
Handle all of your network tasks comfortably, thanks to a sturdy 500MHz AMD processor and 256MB of RAM
Fit your server into a really, really small space
Save space on your desk or in your server cabinet with the tiniest server that has a footprint just bigger than an A6 piece of paper
Significantly reduce electricity consumption with an energy-efficient server that uses only 3-5W in full swing
Keep your server room or cabinet cool and quiet with a completely fanless server that also has excellent heat dissipation
Spend less time on maintenance, with a high-quality and ultra-reliable server that is built to last
Keep using your server, year after year, without needing to replace or upgrade it
Have the freedom to design your server your way, with the capacity to run many different flavours of Linux, and your choice of slimline or outdoor cases
Create a highly-polished, professional solution in a stylish slimline case
Feel confident that your server is built to last in a case that's light yet strong, and also dust and splash resistant
Create a compact, cost-effective thin client, POS terminal, kiosk or industrial appliance with VGA display and audio input and output
Deploy inexpensive yet robust wireless access points or CPE's quickly and easily at all of your client sites
Build a cost-effective and fully customisable music player or media system
Connect your server to the world easily with one 10/100 ethernet port, one serial port, two USB ports and two miniPCI slots
Quickly plug in all of your connections with the ready-made punchouts for ethernet, serial, USB, SMA and power
Get ready access to the Compact Flash card, with a board that slides in and out easily, thanks to the extruded design
Install your server in extreme environments, thanks to the rugged design that ensures it can be used in factories, on mountain tops or simply up on your roof
Shield your ALIX 3 server from the elements with an outdoor case that's completely sealed and can be immersed in a metre of water without leaking
Save money by building your own point-to-point link, at a fraction of the cost of running cables or renting leased lines from a telco
Build an outdoor access point, bridge or repeater by mounting an ALIX 3 in an outdoor case at the top of a very long pole, or on any flat surface with the pole and wall mounting brackets
The ALIX 3 is a powerful embedded server that's equally at home indoors or outdoors.
What's under the hood?
The ALIX 3 has the following features: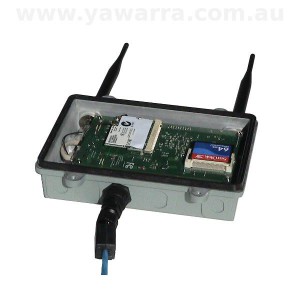 a tiny size of just 110mm x 166mm x 35mm (in the slimline case)
power consumption of just 3-5W (not including expansion cards)
able to run Linux, m0n0wall,

pfSense®

software and many other open-source software packages
a 500MHz AMD Geode processor
256MB RAM
VGA port
Audio out and microphone ports
Two miniPCI slots
One 10/100 ethernet port
A single serial port
Two USB 2.0 ports
Compact Flash slot
Support for Passive Power over Ethernet (PPOE)
Buy an ALIX 3
What next?