Get a high-performance desktop computer in a tiny package
Minimise energy-consumption, desk space and noise with a compact, powerful Intense PC desktop computer.
Here's what you can do with it:
Run all of your standard desktop applications with ease, thanks to a blazing fast, powerful 1.7GHz dual-core Intel Core i7 CPU and up to 16GB of RAM
Significantly reduce electricity consumption with an energy-efficient desktop PC that uses less than 10W when idle, and less than 27W under full load
Save space on your desk with a tiny computer that takes up less than 5% the space of a regular desktop PC, and can be mounted on the back of your monitor
Create peace and quiet in your workplace with a completely silent, fanless PC
Spend less time on maintenance, with high-quality and ultra-reliable desktop PCs that are built to last
Keep using your desktop PC, year after year, without needing to replace or upgrade it
Create an extremely rich interactive experience, with dual-head HDMI display, DisplayPort technology, digital and analogue audio
Connect yourself to the world with dual Gigabit ethernet, wireless ethernet, Bluetooth and up to 6 USB ports
Keep your desktop PC safe from accidental damage with a rugged and durable case, that is also splash and dust resistant
Have the freedom to choose your desktop environment, with the capacity to run either Windows or Linux (or both)
Keep using your desktop PC, year after year, without needing to replace or upgrade it
Use your desktop PC in harsh environments, thanks to its ruggedised design that ensures it can handle industrial, automotive and outdoor installations
Keep your office cool with an innovative thermal design, including a diecast aluminium enclosure that doubles as a heat sink for the Intense PC
Use it for high-performance applications such as graphic design, office desktops, classroom computers, point-of-sale (POS) systems and home entertainment
The Intense PC is easily the most powerful miniature fanless PC ever!
What's under the hood?
The Intense PC is a tiny, fanless, powerful, energy-efficient desktop PC, able to handle any desktop environment.
The Intense PC Pro's features include: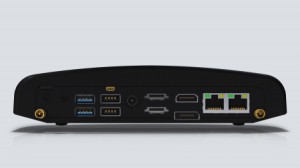 A tiny size of 19cm x 16cm x 4cm, in a stylish ribbed die-cast aluminium case
Power consumption ranging from 10W to 26W (depending on model and load)
Runs Windows 7 and Linux
Comes with a standard 5 year warranty
64-bit dual-core Intel Core i7 CPU (1.7GHz) with integrated graphics processing (Intel HD Graphics 4000 GPU)
Up to 16GB RAM (64-bit, DDR3, 1600MHz, dual channel: 2x SO-DIMM sockets)
Internal 2.5″ SATA 3 hard drive or solid state drive (SSD) [up to 6Gbits/s], plus 2 eSATA ports [up to 3Gbit/s, AHCI support] and mSATA support
Dual-head HDMI 1.4a (up to 1920 x 1200), plus DisplayPort (up to 2560 x 1600 @ 60Hz) with dual mode support
Digital 7.1 channels S/PDIF, stereo line-out, line-in
6x USB 2.0 ports (4 via FACE extension module), 2x USB 3.0 ports
2x miniPCI Express sockets (one supports an mSATA drive)
802.11b/g/n wireless, plus Bluetooth 3.0
2x Gigabit ethernet ports
Ultra mini serial connector
Buy an Intense PC

What next?